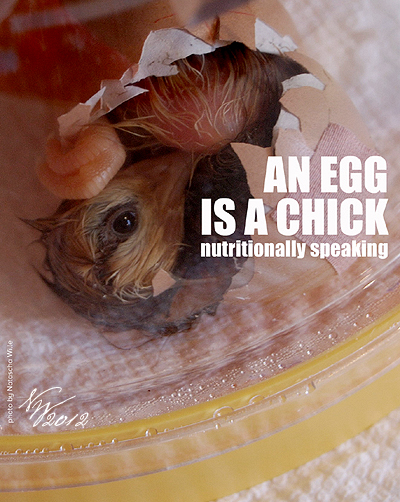 An egg is a chick – nutritionally speaking. During the incubation period, nothing is added to an egg to enable it to develop into a chick, except warmth and oxygen. It never seizes to be amazing how, in the short period of 21 days, a yellow blob suspended in clear liquid turns into a living thing. A chick is a perfect little bird in all respects.
The egg shell is the protective vessel and a reservoir for calcium. Through its pores oxygen is absorbed and moisture evaporates. The yolk is the part of an egg that transforms into the chick if the egg was fertilized by sperm from a rooster. It is suspended in the protective egg white, which can loosely be compared with amniotic fluid, by a twisted band of tissue.
As a food, egg yolks is an all-in-one super food better than any multivitamin pill. It contain 10 of the, for the cat, essential 11 amino acids, including Arginine, Methionine, and Cysteine – amino acids which other species can synthesize. Egg yolk is not a source of Taurine, however. The cat synthesizes this amino acid from Methionine and Cysteine in quantities too low to meet its nutritional need and requires a food source containing Taurine, like meat.
Egg yolk contains, for the cat, all essential fatty acids (EFA), including Linoleic and Linolenic acid, and is one of the best sources for Arachidonic acid. Depending on what the chickens were fed (like flax, green grass, alfalfa, or seaweed), egg yolk can be a good source of Eicosapentaenoic acid (EPA) and Docosahexaenoic acid (DHA), because chickens convert plant source Omega 3 and deposit it into the egg yolk for optimal development of the chick.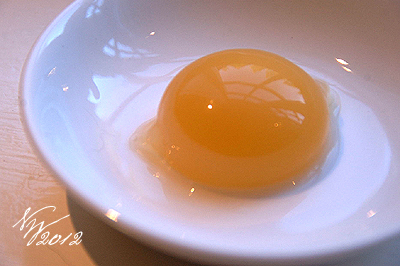 Egg yolk is an abundant source of pre-formed Vitamin A (Retinol) and Vitamin D – Vitamins which the cat must receive from food. It is the richest source of Vitamin E (alpha tocopherol) from animal products. B vitamins are abundant in egg yolk, including Folate (Folic Acid) which is most commonly found in plant foods and not animal products, except for egg yolk and liver. Folate has a complex interaction with Vitamin B12 and Iron, for which egg yolk is a good source as well. Other trace minerals found in egg yolk are zinc, copper, and selenium. Selenium and Vitamin E have a nutritional interrelationship as antioxidants to help protect cells from damaging effects during normal oxidative metabolism.
Egg yolk is one of the best source of Lecithin and its constituent Choline as Phosphatidylcholine. Phosphatidylcholine is a component of the membrane surrounding every living cell in the body, and is a nutrient essential for liver and brain function. Lecithin is an emulsifier and as such plays a role in the breakdown of fats in the body, and regulates the flow of nutrients and waste materials in and out of the cells.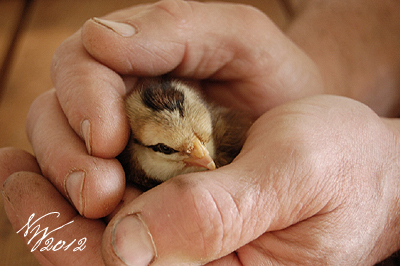 Since the egg yolk represents nearly all the building blocks to make a chick, it has, therefore, a similar nutritional value a chick would have. This is an interesting consideration when feeding a small carnivore which would naturally consume small prey animals. The nutrients in egg yolk are possibly more bio-available than nutrients from a chick, as they have not undergone any transformation. This makes egg yolk a valuable resource as a supplement of condensed nutrients. Egg yolks can, however, not replace whole prey altogether, because some essential nutrients are absent or not present in sufficient quantity in egg yolk, which would be present in a chick, like Taurine (synthesized during development of the chick) and Calcium (absorbed from the shell by the developing chick).
Day old chicks make up the main staple for many predators and raptors kept in captivity, and serve as a replacement for natural prey. In theory, day-old chicks would make a good food for feeding domestic cats. If you have ever held a day-old chick in your hand, however, this idea is not a feasible option. Day-old chicks would be available frozen from specialty pet stores. Those chicks are the unwanted male by-product of the egg industry. Feeding egg yolk is an easy and more humane alternative to feeding chicks, offering a unique bundle of essential nutrients similar to feeding a chick. Incorporated in a food which supplies Taurine and Calcium it serves to complete a diet prepared for cats.
Egg yolk is best when fed raw to preserve all nutrients. Fresh, raw egg yolk can be incorporated in many ways in the cat's diet. It is the ultimate emergency food to fall back on. Keeping the fridge stocked with a carton of eggs is a sensible thing to do.
It should be a staple in home-made cat food recipes and in cat food made with any of my premixes, unless the cat has been diagnosed with an allergy to eggs. If egg yolk can not be incorporated in the cat's food, then fresh, raw liver must take its place to supply essential B vitamins. If raw liver is not an option either, dried liver, especially dessicated beef liver, can be used as a substitute. Nutritional Yeast and Brewer's yeast are an excellent source of B vitamins as well, but must be supplemented with Vitamin B12. If Vitamin B can not be supplied from food source, addition of a B complex vitamin supplement is necessary.
It serves as an excellent nutrient boost for cats eating canned cat food, or as a first step when transitioning cats from canned to raw food.
Egg yolk mixed with cat food, mixed with cream, or by itself is a perfect food for nursing sick, young, or old cats, because it offers nutrition in such a concentrated form. 4 egg yolks per day will meet the caloric requirement for an average adult cat*, as well as supply all required protein and fat. Almost all other nutritional requirements are met as well, and egg yolks only fall short in supplying Taurine and enough of some minerals, namely calcium, magnesium, and some trace minerals. (*based on my finding that 130g of my raw cat food, containing approximately 193 kcal, meets the energy needs of an average indoor adult cat. In comparison, 130g of mouse (5 mice) contains 182 kcal, and 22o kcal are supplied by 4 x17g egg yolks.)
Poke the tip of a syringe into a yolk to suck the content into the syringe for force feeding.
Feed egg yolk, as is or as a soft-boiled whole egg, if you have run out of all other foods to feed to cats.
NEVER FEED EGG WHITE RAW! Egg white contains the enzyme Avidin, and consuming raw egg white causes a Biotin deficiency. Cook egg white to neutralize Avidin. Egg white is made up mostly of water and protein. It does not offer the same nutritional potency as egg yolk does. However, it is food and a whole egg can serve as a filling emergency meal if the egg white is cooked, scrambled, and the egg yolk added back to it raw.