Without my cats, I would have never explored the option of making homemade cat food. Without my cats I would have never investigated cat nutrition or formulated a raw meat diet.  Without them there would be no cat food premix. But most of all, without them I would not have had the proof that this food can do everything I hoped it can do. My own cats have been eating the very same premix I sell to you since 1998 and have been on my raw meat diet since 1995. They are the ultimate testimonial!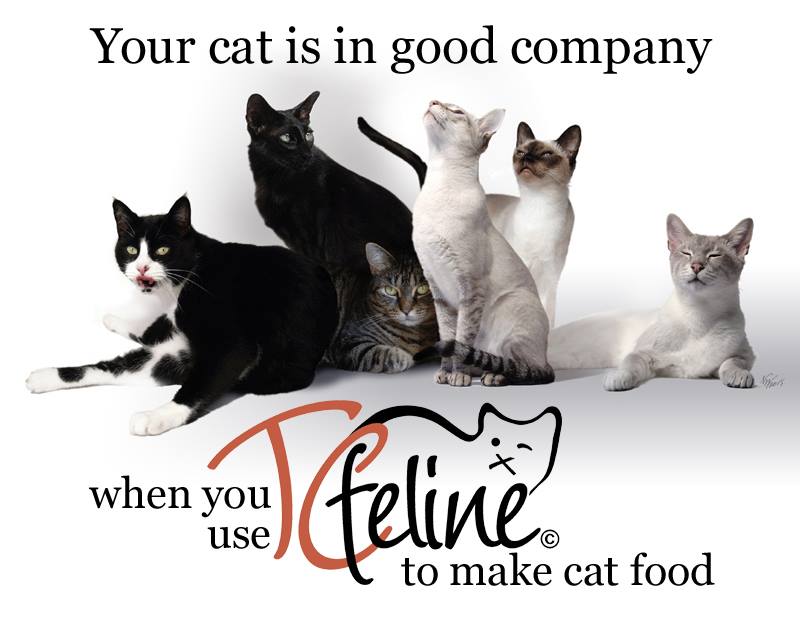 Over the past 20 years, many cats have joined and left my study group. This page is about the cats who share my life today – my teachers who enable me to teach you. The seven cats in my family and study group at this present time are a colorful bunch – all with less than perfect beginnings in life, and full of challenges when it comes to feeding them!
Charlie, my Lynxpoint Siamese,  is the only cat I ever "bought". He is the fulfillment of a dream to share my live with such a cat.
Anushi is a Oriental Shorthair who came from a pet store where she ended up with her siblings, because the breeder was leaving the country.  Well, I felt bad for her and thought that Charlie needed a friend his age anyway.
Tami suffered a severe lack of socialization as a kitten. Found as an adult stray, she ended up at the pound from where she was rescued by a local cat rescue group.  Her beauty alone wasn't enough to get her adopted until I decided that we had room for one more.
Tika is a little Sealpoint Siamese who happened to be born in a kitten mill. When the BC SPCA seized all 23 cats from that place, Tika was just a baby and very sick with cat flu. Cute as a button, she was adopted soon, but her snotty nose turned into a chronic condition her owner could not live with.  This meant back to the shelter for Tika and from there from one foster home to another. It takes a special sort of home to look past a snotty nose … which turned out to be ours.

Timmy had a really rough start. Found as a feral kitten with his brother, he was fostered through the BC SPCA until deemed adoptable. Unfortunately, the brothers remained shy towards people and nobody wanted them even after one year. When the shelter experienced a crisis and began euthanizing the least adoptable cats, Timmy was on the list.  Well, at least until I decided we had room for one more …
Malaki is undoubtedly the star of my group. His gregarious, kind nature makes him absolutely irresistible.  He is a brother of Tika and was also seized from that kitten mill by the BC SPCA. He arrived, from his foster home, at the shelter the night I adopted Timmy, and only made it as far as the entrance of the shelter before he found himself heading home with me on the urging of the shelter staff.
Amberle is the most recent addition to the family and study group, arriving on August 3rd. 2015. Surrendered to the BC SPCA in the far north of British Columbia, she was very disoriented and overwhelmed by her experiences. A transfer to another shelter did not increase her success of being adopted. Eventually, the BC SPCA featured  frightened little Amberle on facebook in hopes of find her special forever home … which turned out to be our home.