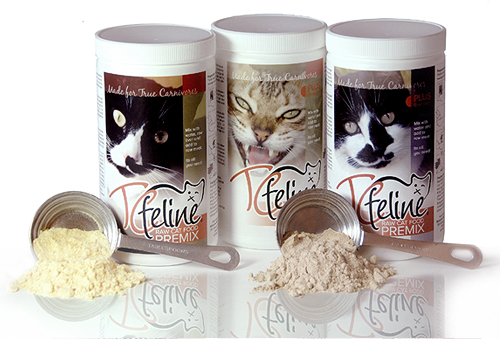 Quality Guarantee:
All of my raw cat food premixes are always fresh and hand-made with great care by myself from ingredients of known origin and purity. Ingredients used to blend the premixes are foods and pharmaceuticals intended for people. These ingredients are extensively tested by the respective manufacturers for purity and safety, and all of them are safe to feed to cats. The premixes are made in small batches, precision measured, blended, sifted, and packaged by hand in a spotless facility. My own cats eat the same premixes that I sell to my clients, every day, and have so since the inception of the raw cat food premix in 1998. This may possibly equal the longest running feed trial for a cat food supplement.
Pure and simple ingredients:
Freeze-dried beef liver from New Zealand (TCfeline PLUS beef liver variety only)
All premix varieties require addition of fresh, raw meat without bone – either ground or as small chunks or a combination of. Dry egg yolk is no longer a part of the premix, but egg yolk should remain a part of the food and be added fresh. Water is added for texture and should be adjusted to best suit the meat used. When using meat chunks, less water will assure that the premix sticks to the chunks. When using ground meats with little moisture, like beef, more water will assure a soft, easy to eat texture.